Scoopaway Health Foods - natural and organic wholefoods.
At Scoopaway, we specialise in Natural Wholesome Foods and Remedies for the whole family. Including natural Food Supplements and natural Body Care from head to toe. Organic and Fairtrade Teas and Coffee, Herbs and Spices and Chilled and Frozen Convenience foods. We also cater for speciality diets such as Vegetarian, Vegan and Coeliac.
We strive to minimise our packaging and food waste by making our best selling lines available loose, enabling the customer to scoop as much or as little as they need.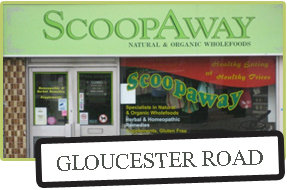 Latest Recipes
>> Oaty apple breakfast bake with no added sugar

Seasonal Health Tips

Scoopaway News
>> Herbal Medicines, The Update…
>> Milking It!