Gluten Free Brownies
August 23rd, 2010
If like me you love chocolate brownies, then try this gluten free recipe.

Ingredients:
100g Butter
100g Gluten Free Milk or Plain Chocolate
100g Doves Farm Gluten Free Plain Flour
1 tsp Gluten Free Baking Powder  (Nutrafare).
200g Caster Sugar
100g Chocolate Chips or Walnut Halves
3 Large Eggs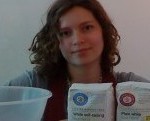 Method:
1. Gently melt the butter and chocolate on the hob or in a microwave.
2. In a separate bowl, mix together the flour, baking powder, sugar and chocolate chips or nuts.
3. Beat the eggs and add to the mixture, followed by the melted butter and chocolate. Mix thoroughly.
4. Pour into a medium sized, oiled and lined dish and bake in a pre-heated oven at 180°C (350°F/Gas Mark 4) for 30 minutes.
5. Leave to cool then slice into rectangles…enjoy!