Vegan Lentil Stew…
February 3rd, 2011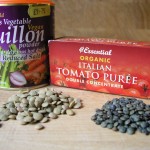 This is such a versatile recipe, not only can you enjoy it on its own as a stew, you can add vegi sausages to make sausage casserole, top it with mash potato to make a vegi shepherds pie, or serve it with spaghetti to make vegi bolognese.  Apart from the vegetables and wine all of the ingredients are available in store at Scoopaway.
Serves 4.
Ingredients:
275ml Vegan Bouillon.
50g Puy Lentils.
50g Green Lentils.
2 tbsp (approx) Olive Oil.
2 Medium Onions.
2 Garlic Cloves.
Vegetables to serve 4 people (e.g. Sweet Potato, Peppers, Courgette, Carrots etc).
1 400g tin of Chopped Tomatoes.
200ml Vegan Red Wine (optional).
2 tablespoons Tomato Puree.
1 tsp Ground Cinnamon.
Salt and Black Pepper.
Method:
Cook the Puy lentils by simmering in the stock for 15 minutes and then add the green lentils and cook for a further 15 minutes (keep an eye on them to ensure they don't boil dry).
Whilst the lentils are cooking heat the oil in a large frying pan and fry the onions until they are soft, and add the vegetables and garlic and fry these until they are almost cooked.
Then add the can of tomatoes, wine, tomato puree and cinnamon and stir well, and allow to simmer until cooked.
Alternatively if you are slow cooking, fry off the onions until soft then add all of the ingredients to the pan until hot (about 5 mins) then slow cook on low for about 4 hours.