Delia's Royal Icing
October 14th, 2011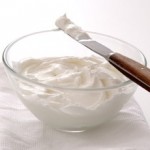 This is Delia's recipe for Royal icing and can be found at http://www.deliaonline.com/recipes/cuisine/european/english/royal-icing.html
This is a recipe for a rough snow scene for a 18cm square, or a 20cm round almond iced cake. If you would prefer fondant icing then pick up some ready made icing in store at Scoopaway.
Ingredients:
500g Icing sugar, sifted
3 medium egg whites
1 teaspoon glycerine
Method:
Place the egg whites in a bowl, then stir in the icing sugar, a spoonful at a time, until the icing falls thickly from the spoon. At this stage, stop adding any more sugar and whisk with an electric whisk for 10 minutes or until the icing stands up in stiff peaks, then stir in the glycerine.
Now spread the icing all over the top and sides of the cake as evenly as possible using a palette knife. Switch to a broad-bladed knife (or smaller palette knife) to 'spike' the icing all over to give a snow-scene effect. Leave the cake overnight for the icing to dry out before placing it in a container till needed.
Note: this recipe contains raw egg.