Delia's Mulled Wine
October 14th, 2011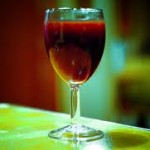 This delicious recipe serves 10 people and can be made in advance and re-heated just before serving, more  information can be found at http://www.deliaonline.com/recipes/type-of-dish/vegetarian-food/mulled-wine.html
Ingredients:
2 x 75cl bottles of a medium to full-bodied red wine
1 orange, studded with cloves
2 cinnamon sticks
4 oranges, sliced
8 tablespoons granulated sugar
whole nutmeg, for grating
2 tablespoons of brandy
Method:
Put all the ingredients in a saucepan with 2½ pints (1.5 litres) water then heat to simmering point, stirring until all the sugar has dissolved. Keep it barely at simmering point for at least 20 minutes – but do not boil or all the alcohol will evaporate.
This can be made in advance, then re-heated just before the party. Serve it warm in half-pint mugs (in which case there will be 12 servings) or else in 24 sturdy wine glasses.