Berry Crunch Layer
June 13th, 2016
INGREDIENTS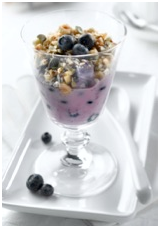 (Amounts listed for 3 – 4 to be scaled up as needed)
Nut and Seed Topping:
30g (1oz) desiccated coconut
3 tbsp almonds
3 tbsp hazelnuts
3 tbsp pumpkin seeds
1 tbsp ground flaxseed
Berry and yogurt layer:
200g (7oz) organic fresh blueberries or mixed berries
200g (7oz) organic fat free Blueberry yogurt
Lightly toast the desiccated coconut and nuts until golden brown. Cool slightly then place in a food processor or blender with the pumpkin seeds. Pulse on and off to coarsely chop. Do not over process. Stir in the flaxseed.
Swirl the berries through the yogurt.
Spoon the yogurt mixture into three or four glasses and top with the nut and seed mixture.
Serve immediately.
Storage: The nut and seed topping will keep in an airtight container for up to 2-3 days. Best assembled and eaten immediately.