Cinnamon Spiced Yogurt Pancakes with Mixed Berry Compote
June 13th, 2016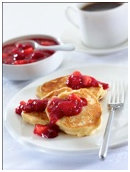 INGREDIENTS ( serves 2 but to be scaled up as needed)
2 organic eggs, separated
450g (1lb) organic vanilla yogurt
Few drops of vanilla extract
100g (4oz) self-raising organic wholemeal flour
100g (4oz) organic plain flour
2tsp baking powder
1tsp ground cinnamon
1tbsp organic caster sugar
Olive oil for greasing
Mixed Berry Compote
1 pot of organic fruit compote
250g (8½oz) mixed organic berries – fresh or frozen.
To make the compote simply place the berries and compote in a small pan and gently simmer for 5-10 minutes until the berries soften.  This can be served hot or cold with the pancakes.
To make the pancakes, mix together the egg yolks, yogurt and vanilla extract in a small bowl.
Sift the flours, baking powder, cinnamon and sugar into a bowl.  Mix in the yogurt mixture to form a batter.
Beat the egg whites until stiff.  Fold into the batter gently.
Heat a little oil in a frying pan and add spoonfuls of the batter.  Cook in batches for 2-3 minutes on each side until golden brown. Serve warm with the compote
QUICK TIP: Prepare the batter the night before but don't whisk up the egg whites until the morning.  You can also prepare the compote in advance and warm up as you are cooking the pancakes.
Variations:  Blueberry pancakes – add a few fresh blueberries to the pancake mixture with the egg whites.