Pecan and date spelt breakfast muffins (vegan)
June 13th, 2016
Preparation: 20 minutes
Cooking: 25 minutes
Makes: 12 medium muffins, or 24 mini muffins
Ingredients:
240g white spelt flour (or a mixture of white and wholemeal)
130g dates chopped
190ml coconut milk or almond milk or other diary free milk.
small to medium bananas mashed (about 180g)
30ml of maple syrup
30g chia seeds
30g pumpkin seeds
50g pecans chopped
30g oats
60ml coconut oil melted
1 teaspoon of mixed spice
1 teaspoon vanilla extract
1 teaspoon baking powder
1 teaspoon bicarbonate of soda
1 teaspoon of apple cider vinegar
Medium carrot finely grated (about 80g)
pinch of salt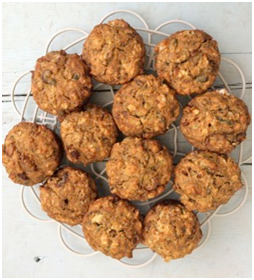 Instructions
Preheat your oven to 190˚C/gas mark 5/350°F.
Put the mashed banana in a big bowl with the carrots, milk, maple syrup, vinegar and vanilla extract  and melted coconut oil, mix well.
Mix the flour, bicarbonate of soda, baking powder, mixed spice and salt.
Add the dry ingredients to the wet ingredients and mix well.
Gently fold in the seeds, nuts, dates and oats.
Don't over mix as this helps keep the muffins fluffy.
Place the mixture in 12 muffin tins.
Bake for about 25 minutes. You can test with a skewer and if it comes out with mixture on it bake for a few more minutes.
Cool on a cooling rack for about 5 minutes or so.